As a guy, what's the quickest way to figure out if your girlfriend or significant other half is still in infatuated or in love with her previous partner ? Well as a guy, you could go the unlikely route of sitting down with your girl and talking to her like a grown up…. Or you could do the "guy" thing and drive her towards her ex in whatever possible way.
Hey guys, it's Aavi here again, well not like you were expecting anyone else writing on this blog. And today I want to discuss something that I felt that I could relate to as a guy.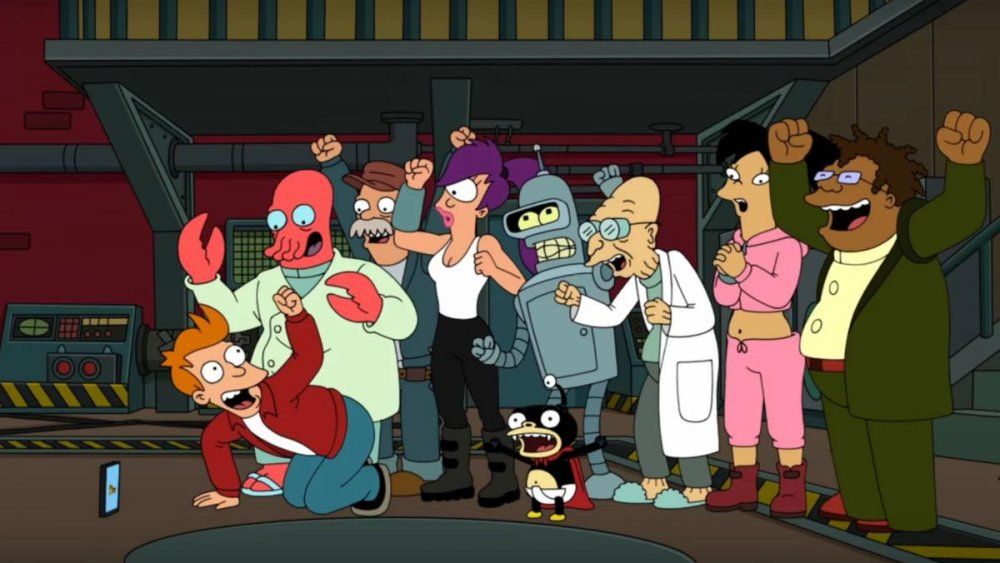 I was binge watching this animated series "Futurama". I came across this episode that I could really relate to as a guy. And I'm sure a lot of you guys can relate to perhaps behaving like this. Perhaps even some of you women can relate to this having watched your man or a man pull a stunt like this.
Episode 6 of season 3 of Futurama is entitled "Bendless Love". The plot focuses around 2 male robots, the first named Bender and the second named Flexo as well as a female robot named Anglelyne. Out of the 3 robots, Flexo is a recurring side character and Anglelyne is a side character who has only made a single appearance in the series so far. So I won't give you a background on either of them.
Bender on the other hand is a main character on the show. He loves stealing, drinking, swearing, womanizing (he's really good at seduction, he even seduced Lucy Liu) and stealing. He's really fun to watch as he is quite self centered with little regard for anyone but himself and his own needs. In fact he get's his friends and co-workers on trouble on a daily basis and is willing to let them take the fall for it with no shame.
In the episode "Bendless Love" however, we get to see a different side of Bender. In the episode "Bendless Love", Bender starts a new job. Upon starting at his new workplace, Bender first runs into and apologizes to Flexo. This is because Flexo was sent to jail for a crime that Bender committed. Flexo is cool about the whole thing and let's it slide.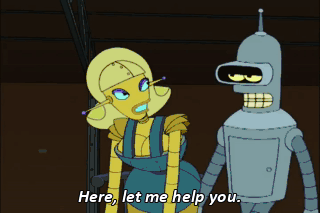 Later on during the day Bender 's attention is caught by Anglelyne. Perhaps it's her curvy figure or her well endowed bust, but she kinda resembles Salma Hayek or Scarlett Johannsen (I'm leaning towards Scarlett because she's blonde). Bender approaches Anglelyne and they hit it of instantly.
There's a mini montage showing Bender and Anglelyne spending more time together. Eventually Bender decides to take his friends out to celebrate in light of his new relationship. While Bender is celebrating at the restaurant with his friends, he notices that Anglelyne is present at the restaurant. What's more is that it appears that she's on a date with none other than Flexo.
Bender is enraged and approaches their table demanding to know what's going on and threatening to kill Flexo. Anglelyne announces that she and Flexo were previously married but are divorced at the moment. Anglelyne and Flexo are still friends so they do meet up from time to time, but that's it. Bender who's still in a state of confusion plays it off and pretends everything is okay.
The next day Bender hatches a plan to determine if Anglelyne still loves Flexo. Bender poses as Flexo and arranges a meeting with Anglelyne at a club. At the club, Bender posing as Flexo puts all the moves on Anglelyne. He treats her to dinner, pays her several compliments, makes her laugh, dances with her and is an overall gentleman. Also, he flashes a lot of money that night (this is important).
Eventually, Anglelyne starts making out with Bender thinking that he is Flexo. She then finds out that it's Bender and not Flexo. Bender announces that he's going to go and kill Flexo. Ironically enough, the mafia also wants to kill Flexo. This is because the mafia watched Bender who was pretending to be Flexo flash money all night.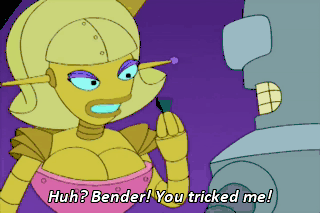 Bender confronts Flexo and a brawl breaks out. The mafia intervene and drop a heavy steel beam over Flexo. As Flexo is dying, Anglelyne arrives announcing that Bender has reminded her as to why she fell in love with Flexo in the first place. Anglelyne states that she still is in love with Flexo and wants to be with Flexo. A heart broken Bender rescues Flexo and watches Anglelyne and Flexo leave together.
I am sure that we all have experienced something similar. We may experience it at different points in our relationships with slight variations, but the theme and pattern is always the same. A guy expresses his doubt regarding a former lover of his current girlfriend. Instead of talking to his girlfriend about it, he'll stalk her, bait her and go to the extreme that Bender went to in order to find out how she feels about her past ex. And I feel like a lot of men can relate to this.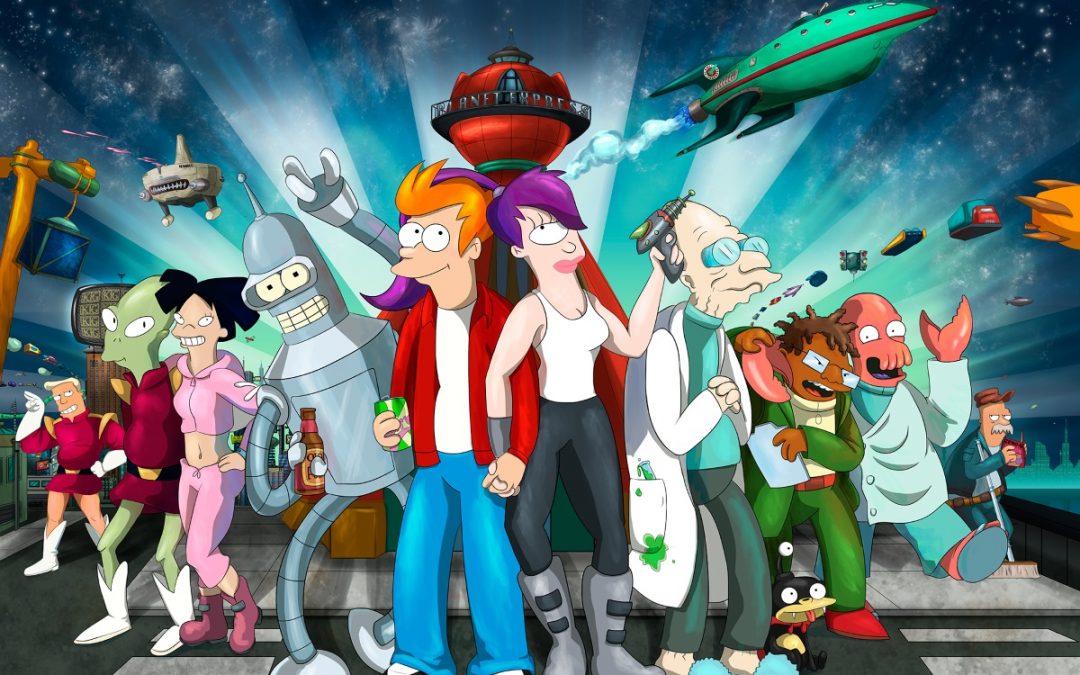 Women may strongly disagree with this. In fact, Bender's friend and crew mate Leela advises that Bender talk to Anglelyne about how he feels instead of testing her. However, Leela is a lot like most girls. She claims to have 0 interest in "testosterone filled macho douchebags", but she has on multiple occasions slept with these kind of men, sometimes even more than once with the same douchebag,
I'm not trying to slander Leela here. I'm just trying to point out that what she say's is totally different from her actions, it's kinda hypocritical. And it make's it even more difficult to accept her advice. But the truth is always darker with these shows, similar to family guy. Dark truths are presented in a funny manner to make them easier to swallow. So Leela who represents your "nice good" girls says she wants one kind of guy for example but sleeps with the complete opposite kind of guy. And she represents the female population.
But it gets even scarier. Anglelyne choosing her past lover Flexo over her current flame Bender. This is a story that is heard quite a lot. Women may say that a guy should rather confront them about sensitive topics like past lovers, as Leela advised Bender. But in the end it doesn't change the fact that they're most likely harboring those feelings for their ex, as with Flexo and Anglelyne. And to a guy whether this admission comes out through trickery or honesty, it's still crushing. And the guy's insecurity is most likely the reason as to why he'd take the risk of baiting and tricking a girl into finding out her feelings rather than directly asking her. It's like a way to save his pride I guess.
And that's it from me, until I edit this blog post, it's 11 pm and I have work tomorrow.
Ciau
Jai Sri Krishna